Free stuff for trainers
This page is for trainers and coaches. Check out our main Free Stuff page for templates and help sheets aimed at freelancers and other trainees.
Since the first Covid lock-down in 2020 we have:
Some downloadable resources in no particular order:
Wall checklist for going live with webinars >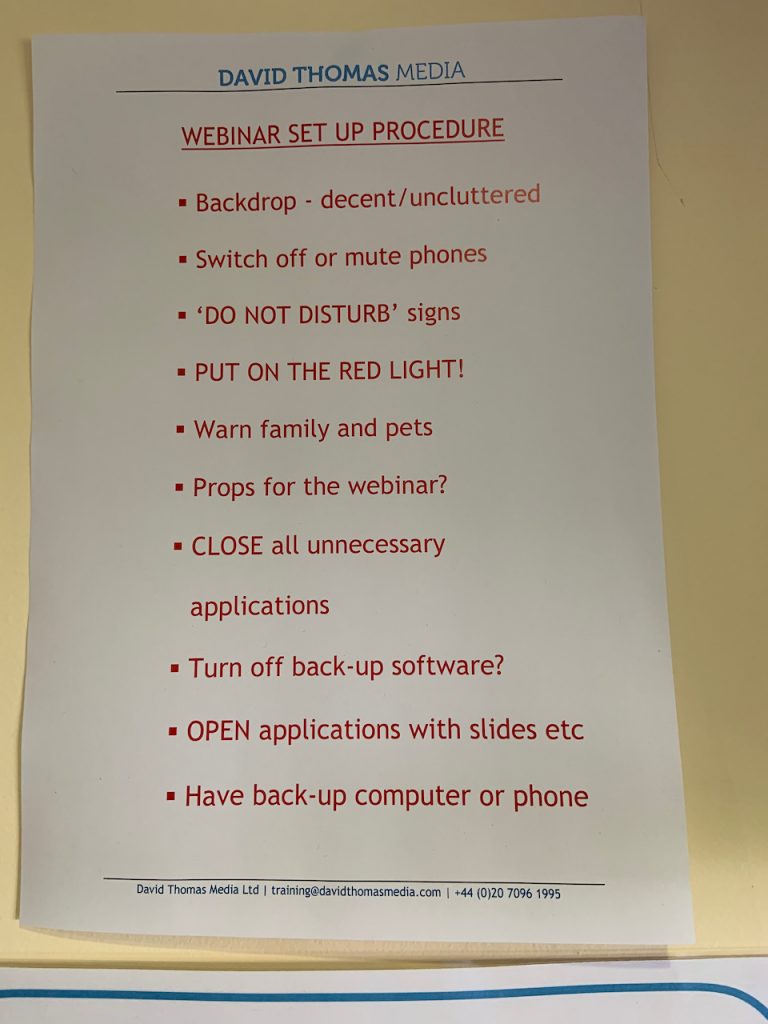 This is designed to stick on the wall in front of you to remind you to turn off phones, lock up the dog, etc
I might even laminate mine.
A sheet which reminds you to ask your clients all the right questions. Such as:
Who is instigating the webinar?
Which software is going to be used? Skype/Zoom/MS Teams/Google Meet?
Is there a reheasal?
Keep healthy! Keep positive!
Please note:
Although every effort has been made to provide accurate tips and information, David Thomas Media Ltd accepts no responsibility for any errors, omissions or out-of-date facts. Trainees are advised to seek up-to-date professional advice on all financial and tax matters before making decisions relating to these subjects. Nothing in our notes, courses, webinars, downloads or social media should be considered as financial advice.
We believe our tips are useful - but they are only tips!
Available courses are listed below:
This online workshop shows you how to keep within the regulations and not waste time, whilst making the most of your finances.
From 10am until 1pm
Venue: Online using Zoom
A fun webinar for anyone who wants to be more organised with their money and understand how tax works. Perfect for people who hate spreadsheets.
From 10:00am until 1pm
Venue: Webinar using Zoom
An interactive workshop across 2 mornings for production people going through redundancy and setting up on their own.
From 10:00 until 12pm each day