Digital banking for businesses: pros and cons
Last Updated on 11 September 2020
I get a lot of questions about digital banks on my sole trader courses. Are they any good? Are they better/cheaper than high street banks?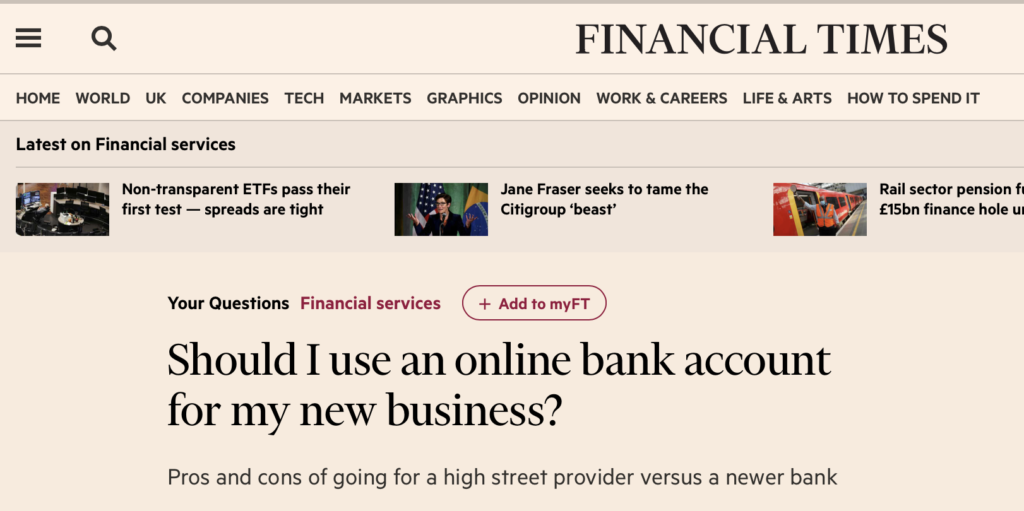 Right on cue, we have a nice article in the Financial Times*. It's worth a read if you're setting up on your own for the first time.
Should I use an online bank account for my new business >
I agree with the main points. You need to shop around a bit taking into account the kind of business you're setting up. Also…
What sort of withdrawals and deposits will you be making?
If you're only using online/electronic transactions the digital banks should work ok. If you're taking in cash or cheques there may be charges, and you'll have to go to a post office to put the money in.


What's your approach to risk?
Some new digital banks aimed at businesses are not officially banks in themselves. So they protect your money through a third party. This is a low risk if you're not keeping huge amounts of money in the business account, but it's something to bear in mind.


Is your bank account easily integrated into bookkeeping software?
If I were starting up again I probably wouldn't use the Co-operative Bank for my business as it doesn't integrate well with my FreeAgent accounting software. It works, but is a bit clunky.
Newer digital banks build the integration from the outset, so it's a consideration as we're all going to be doing more digital reporting under the HMRC Making Tax Digital programme.

Feel free to add thoughts, tips and comments below. It's always good to hear from you.
*The FT has a subscription model, but you can read a limited number of articles for free every month if you sign up with an email address. No credit card required.
This might be a good idea, given all the economic shocks (covid, Brexit, tax changes, IR35) likely to come our way in the next 12 months.
NB: David Thomas Media Ltd is not responsible for the content of other sites nor any financial advice provided by them.
Posted on 11 September 2020