Do freelancers need to 'get ready for Brexit'?
Last Updated on 16 December 2019
Update November 2019: You can watch my 20 minute presentation about no-deal Brexit and freelancers courtesy of AudioUK – recorded 25 October 2019:
David's presentation on Vimeo >
Have you got ready for Brexit yet? Nope – me neither. Because no one knows (at time of writing) what Brexit will look like.
However, there are some things you should think about in preparation for 'getting ready for Brexit'. Some of it won't cost any money, and will mean you are less likely to be caught on the hop if and when we leave the EU.
This will be particularly important if we leave in a sudden 'crash out', no-deal, WTO-type scenario. [Update 16 Dec 19: this could still happen at the end of December 2020.]
I've included useful links at various points in this blog. But there is one general link on gov.uk worth highlighting straight away. It's specifically aimed at people working in the creative industries:
https://www.gov.uk/guidance/preparing-for-no-deal-brexit-if-you-work-in-the-creative-industries >
Important reminder 1: Brexit isn't 'done' just because the UK leaves the EU. The Withdrawal Agreement just covers the ending of EU membership and start of a transition period.
It's a starting pistol for negotiations with the EU about future arrangements.
(Bonus reminder: EU free trade deals usually take 4-7 years to conclude. Brexit's for life, not just for Christmas.)
Important reminder 2: The transition period only happens as the result of a deal. As currently envisaged in the Withdrawal Agreement, it ends on 31 December 2020. During the transition nothing really changes in terms of travel and trade with EU and EEA countries. It's just that we're not involved in EU decision making about anything any more, even though we're following the EU rules.
Image: Brexit timeline. In a 'no deal' Brexit the purple section doesn't exist
© 2019 David Thomas Media Ltd
So if there's a sudden 'no deal' scenario at the end of 2020, what do travelling freelancers need to know?
I think there are three areas to keep an eye on:
Travelling to the EU after Brexit (for everyone)
Travelling for work in the EU
Taking equipment across EU borders
NOTE: There is a fourth important area, which is taking goods to EU countries to sell them. I'll try to cover this area in another post, but don't hold your breath.
…
1. TRAVEL (everyone)
Passports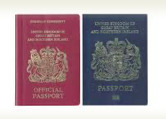 You will need at least 6 months on your passport in order to enter an EU/EEA country or Switzerland. There's a passport checker on gov.uk which prompts you to check expiry dates.
The colour of the passport is irrelevant.
https://www.gov.uk/check-a-passport-for-travel-to-europe >
…
Health insurance
Your EHIC card (for using EU national health services) will not work, so health insurance will be needed. Travel insurance might be more expensive because the insurer will be carrying more risk.
Shop around if you have pre-existing conditions. The beauty of the EHIC card was that pre-existing conditions were irrelevant.
https://www.gov.uk/european-health-insurance-card >
…
Driving
You may need an International Driving Permit (IDP) as well as your UK licence.
There are two types of IDP used in Europe, and different countries have different requirements. Many countries don't need one for short visits. Unfortunately France requires one – and it's on the way to everywhere if you drive from the UK via the Channel Tunnel.
You get them at the post office. Take a passport-type photo. They'll charge you £5.50 and glue the photo onto a piece of card. That's the IDP. One type is valid 1 year. The other is valid 3 years.
International Driving Permits (on gov.uk) >
International Driving Permits (on Post Office website) >
…
Taking your own vehicle?
You'll need a 'green card' from your car insurance company.
Put a GB sticker on your car. EU number plates with the GB on them don't count.
…
Mobile phone roaming charges
Only recently roaming charges were harmonised within EU countries so that there are no extra charges when you travel across EU borders. Technically this could change for UK phone contracts being used in another EU country.
No UK mobile phone provider has said they'll re-introduce roaming charges…yet!
…
ETIAS (Visa waiver)
(European Travel Information and Authorisation System)
The EU will introduce a new visa waiver system, very similar to the US ESTA visa waiver. The ETIAS system is probably coming in 2021, which will coincide with us leaving the EU.
From that point everyone entering the EU will need one.
It will be purchased online, and you'll need to do it three or four days before you travel, although it could take up to 2 weeks for you to be authorised.
Your ETIAS will probably cost €7 and be valid for 3 years.
ETIAS explainer (on European Commission website) >
Side comment: The UK will probably be introducing something similar (UKTIAS?) for anyone travelling into the UK from a list of other countries.
It will probably cost more than €7.
…
Crossing the border
You won't be able to use the blue channel when entering the EU. It'll be red or green only.
You will have to line up in the 'other countries' queue, not the EU/EEA queue.
You may be asked for proof that you're going to leave again – e.g. a return ticket.
You may have to prove that you've got enough money to look after yourself when you're in country (e.g. credit cards, cash).
…
TRAVEL for work – all the above, plus…)
Good-ish news! It's very likely you'll be able to travel for business meetings, training and cultural/sporting events for a total of 90 days out of each rolling 180 day period, without needed a work visa.
The 90 day restriction means you'll have to keep a record of total number of days in each 180 days to ensure you don't go over the limit.
BUT…you may need a work visa for any other business trip.
Really important point: Each EU countries sets its own work/business travel rules. So you should check with each country you will travel to.
More good news! Gov.uk has links to each country's requirements.
More bad news! Some of the sites are not in English.
Check country business requirements via gov.uk >
…
Side note: The Creative Industries Federation (soon to merge with Creative England) is lobbying for a new Freelance Visa, and Touring Visa in their 10-point manifesto.
https://www.creativeindustriesfederation.com/news/creative-industries-manifesto-published-today >
Side note about possible future arrangements:
Any Free Trade Deal between the UK and the EU would probably include something to smooth business travel arrangements.
The Canada FTA did, but there are still restrictions.
Take a look at what was agreed on business travel in the 'CETA' EU/Canada trade deal:
https://www.canadavisa.com/ceta-business-visitors.html#gs.cebdah >
…
3. TAKING BUSINESS EQUIPMENT WITH YOU
You will need to make some sort of customs declaration on departing from the UK. (The government suggests two hours extra time at the airport to clear customs.)
You might need an ATA Carnet (a French word pronounced as 'car-nay'), which is a kind of 'passport for goods'.
A Carnet costs around £350 and is valid for a year.
It's important to prove you're taking equipment out of the UK and will be bringing it back. It stops customs officials forcing you to pay import duties.
How to take goods out the UK temporarily (gov.uk) >
…
SPECIAL ARRANGEMENTS FOR MUSICAL INSTRUMENTS
The EU is very likely to be happy for you to take a musical instrument with you for personal use.
BUT check what it's made of. CITES rules prevent the movement of restricted animal products and rare woods (amongst other things). If you have ivory in your beloved keyboard or a rare hard-wood in your guitar fret-board you would be well advised to make a CITES declaration. Otherwise your instrument might be impounded or worse.
CITES regulations (via European Commission site) >
Pour yourself a stiff drink before wading into this site.
…
To summarise
"But just give me the headline, David" I hear you cry.
Well, two messages from this:
There'll be more paperwork. This is to be expected, given that we're leaving structures which only exist to reduce barriers and bureaucracy.
You'll need to plan further ahead than you've been used to. This might not mean much more paperwork or cost, but could make a significant difference to being able to travel or not.
For example you don't want to suddenly discover that your passport has not expired but only has 5½ months left on it.
If you're used to working in non-EU countries, it's going to feel a lot like that when travelling to the EU/EEA countries and Switzerland.
I will try to update links and details when they become clearer. But please don't hold your breath.
Posted on 25 October 2019