Freelancers and the Self-employed Income Support Scheme
On 26 March 2020 the Chancellor announced his new scheme to help people who are self-employed and have no work or reduced income.
On 29 May he announced a second grant, available from 17 August, modelled on the first, but at a lower rate.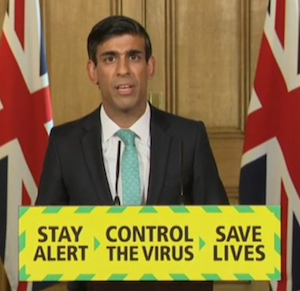 He is helping sole traders only but with strict eligibility criteria:
profits on average no more than £50K per year, calculated using tax returns across three years if available, or two years, or just for 2018-19 if they sole trader has not been registered for longer than that year
with the majority of their income coming from sole trader profits, not from other income (and 'other income' includes pension income, dividends, PAYE income and property income)
They will be able to access taxable grants, covering 80% of average profits for the last 3 years, up to a maximum of £7,500, which is £2500 per month.
UPDATE: Sole Traders must apply for grant 2 before 19 October 2020.
The second grant will be calculated on the same profit figure but will be at 70% of average profits. The maximum will be capped at £6,570, or £2,190 per month.
…
Things to know about the second SEISS grant:
You will have to apply again. From 17 August 2020.
It will be taxable like the first grant.
If you were eligible for the first grant you will almost certainly get the second grant.
If you were not eligible for the first grant you will not be eligible for this one either.
The earliest you could receive your money will probably be in the last week of August.
…
For people worried about the delay, please see my list of bodies that might provide you with support >
…
This scheme does NOT help people who might use the term 'self-employed', but who are not registered as sole traders, which is the strict government definition of self-employed.
The scheme does include people who have been part of a partnership business, as partnerships are made up of two or more sole traders.
Specifically not covered are:
People who are not technically 'sole traders', but run their own one-person limited company
People who receive all their income as PAYE freelancers, paid via a payroll, and moving from short term contract to short term contract
People who became sole traders within the last 12 months, and so aren't yet in the HMRC system
You also have to declare that your sole trader business has been affected by coronavirus. The cut-off date for the first grant is 13 July 2020. For the second grant you have to declare that your business has been affected by coronavirus from 14th July onwards.
One eligibility criterion is that a tax return has to have been submitted for 2018-19. This is particularly hard on new sole traders who may have been earning since 5 April 2019, but won't yet have had to submit a tax return.
…
If you live in Scotland and are a newly set up sole trader, you may be able to get a £2,000 hardship grant via your local authority.
Newly Self-employed Hardship Fund > (Scotland only)
This is the SEISS section from the Gov.UK website:
Self-employment Profit vs Grant Indicator:
I have thrown together a VERY basic online indicator tool which might help you to see what 80% and 70% of your average monthly sole trader profits over one, two or three years would look like.
Use this to help your cash flow planning.
Image credit: Peggy und Marco Lachmann-Anke from Pixabay
…
Please note:
Although every effort has been made to provide accurate tips and information, David Thomas Media Ltd accepts no responsibility for any errors, omissions or out-of-date facts. Trainees are advised to seek up-to-date professional advice on all financial and tax matters before making decisions relating to these subjects. Nothing in our notes, courses, webinars, downloads or social media should be considered as financial advice.
We believe our tips are useful - but they are only tips!
Posted on 26 March 2020